Archive for January, 2015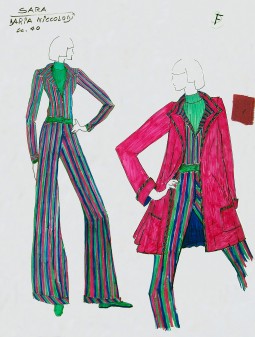 This January, our Europeana Fashion Tumblr has been curated by Biblioteca Luigi Chiarini, Rome, featuring a selection of costume sketches from their collection!
The "Luigi Chiarini" Library contains a large section dedicated to Fashion and Costumes, which consists of over a thousand bibliographical documents and a wonderful collection of original sketches for costume-designs for cinema, television or theatre of over two thousand drawings. It was originally set up to provide educational material to meet the specific needs of students on the Costume and Scenery course at the National Cinema School. However, over the years, the section has also been increasingly used by costume designers already established in their professional field. The Section contains many richly-illustrated books and a large collection of fashion magazines representing this wonderful form of illustration, many of which are very rare and date back to the mid-1800s. It is composed of bibliographical and documentary material, in particular we remember the costume and fashion designers's Adriana Berselli, Marisa D'Andrea, Vera Marzot, Gino Carlo Sensani, Piero Tosi and Alberto Verso collections. These make up a rare collection, related not just to theatre and film costumes and fashion over the centuries, but also to the history of art, to furniture, to the decorative and graphic arts, and to photography.
Visit our Tumblr to see the complete curation and more!It's more important than ever that schools implement the necessary means to keep students information safe https://midnightpapers.com under all circumstances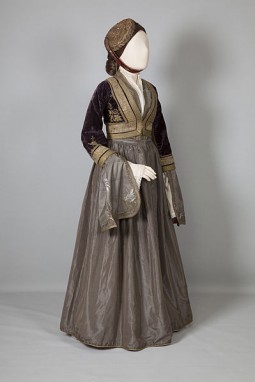 The 7th of February, 2015 at Harokopio University, there will be "Marathon Wikipedia for Greek Fashion and Greek costumes which focuses on the Peloponnesian Folklore Foundation (PFF)", an event promoted by PFF in collaboration with Europeana Fashion, Wikipedia and the company PostScriptum.

The Peloponnesian Folklore Foundation organizes the action "Marathon Wikipedia for Greek Fashion and Greek costumes which focuses on the Peloponnesian Folklore Foundation (PFF)" as part of its participation in the European project Europeana Fashion. The company PostScriptum, which implements the PLI ESPA program "The PFF in the digital age", is involved in the organization of the action's event too.
This action, addressed to instructors and students from various university departments (theater studies, sociology, history, folklore etc.), fashion and costume museum curators, clothing historians, folklorists, "fashion bloggers" and anyone interested in participating, aims to enrich the Greek Wikipedia – and potentially the Anglophone Wikipedia – with entries relating to Greek local costumes and Greek fashion during the course of time. The event will also take place with the participation and supervision of members of the Greek Wikipedia.
More specifically, participants will be invited to write new entries or edit older ones. During the Marathon, participants will have the opportunity to meet personalities from the fields of fashion and costume design, as well as curators of the PFF, and discuss with them about the museum and its collections. In addition, there will be a brief presentation about Museum's collections and Europeana Fashion, as well as training in writing and formatting techniques in Wikipedia.
Internet access will be provided by a Wi-Fi network, participants should only have with them their laptop or any other portable device. Anyone who will not manage to register their entry during that day or has to leave before the end of the program, can complete the writing and uploading in Wikipedia at another time.
Participants will be invited to a special tour of the museum permanent collectionsin Nafplio, and they will receive a 10% discount on any purchases they make in the museum shop.
On 5 and 6 February, and one more time at the premises of Harokopio University, a seminary will be held about Wikipedia and the methodology on writing entries, in relation with participation in the PFF ESPA program afore mentioned.
Those who wish to have more comprehensive training in order to take part in the action of the 7th February, are welcomed to attend the sessions 5 and 6 February, 17:00-20:00.
For more informations visit Wikimedia.
To register yourself to the event.
Dadurch muss ich natrlich sehr flexibel sein, finden zielorientiert, aufgeschlossen und natrlich auch teamfhig sowie kundenorientiert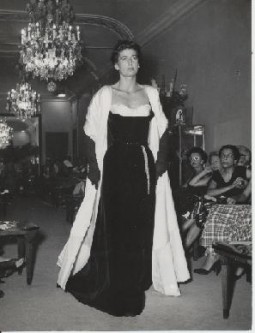 On January 24th, 2015 there will be a edithaton on articles related to fashion, promoted by Europeana in collaboration with the Museum del Traje, DIMAD and Wikimedia Spain.
New voices are going to be created about the major figures in the world of fashion, fashion designers in Spain, Madrid Fashion Week/Pasarela Cibeles, clothing architectures (petticoats, farthingales, mob caps…) and Spanish traditional costumes.
If you wish to participate in person, you must register in advance for there is a limited number of available seats; you should also bring your own laptop and have previously created an account in Wikipedia Spanish. Publishers who wish to join virtually are welcomed, a pre-registration however is requested in order to complete the event statistics. The event hashtag on social networks is #fashioneditathon. A certificate of attendance who provides personal data will be also given.
In an effort to improve knowledge of fashion online, Europeana Fashion is organizing a series of editathones with Wikimedia volunteers and fashion institutions across Europe. Fashion history is undoubtedly a significant cultural contribution, since if someone wants to learn about that, they will probably first stop in Wikipedia. Fashion is usually underrepresented on encyclopedias and this may lead to misleading informations, but improving the knowledge on fashion, Europeana Fashion aims not only to collect and digitalize hundreds of thousands of fashion items, but also to increase the amount of contents on the web and make them more visible.
In Wikipedia: Editatón you can find more general information about Wikimedia Edithatons. For more informations about this Fashion Edithaton visit Wikipedia's Fashion Edithaton page or Museo del Traje.
https://www.admission-writer.com