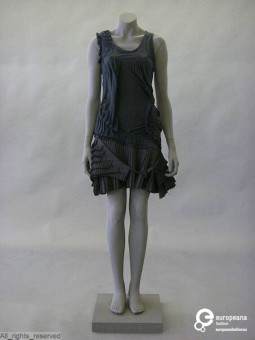 The influence of time over fashion also concerns its production; even if from a mere economical point of view, time has a big impact on the production costs and the final price of a garment.
In this sense, time is such a topical theme today that brand's focus over faster or slower production techniques can determine the very identity of a brand. Being conscious of time and its value is an important quality for designers, not only for the definition of their aesthetics but also for shaping their approach towards the production and commercialisation of their clothes.
From June to July 2016, Antwerp hosted the exhibition 'Beyond the Clothes', curated by Bruno Pieters. The exhibition displayed the ways the Belgian fashion designer approached these issues with his own project and website, Honest By. Bruno Pieters. This project, launched in 2012, aimed at stimulating costumers' consciousness over themes such as sustainability and transparency.
Bruno Pieters, who graduated from the Royal Academie in Antwerp in 1999 and gained experience at Christin Lacroix, Maison Martin Margiela and Josephus Timister, first started with his website, which he created after a two years long hiatus. In it, for each piece on sale, he described in details the manufacturing process and the information of the materials and accessories.
These details serve not only to retrace the story of the garment back from its conception but also to keep trace of operation and works that, beyond the clothes, usually remain invisible or untold. What lies beyond clothes, in fact, is the craftmanship of a group of authors and interpreters that convey their knowledge and experience to the realization of the product. Therefore time acquires a great importance as it is the direct expression of their contribution abd one of the key terms to value it. At a time when fashion and its industry speed up their pace to the extreme, the consciousness of the time needed and its costs are essential to understand, and maybe defend, the right to take it.