Archive for November, 2015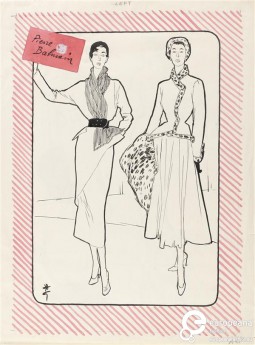 Pierre Balmain was born in 1914 in St. Jean de Maurienne. His father owned a wholesale drapery business and his mother worked at a boutique.
After a childhood spent playing with fabrics in the shop where his mother used to work, Balmain started to study architecture at the Ecole des Beaux Arts in Paris, but did not complete his studies. He used his spare time designing dresses and when decided to present them to somebody, he turned out a trial at Molyneux's, where he worked for five years, from 1934 to 1939.
After compulsory military service, the designer joined Lucien Lelong and worked for him during the German occupation of Paris. The Maison Lelong launched the trend of the long bell-shaped skirts with small waists, a line which later became popular as New Look. In 1945 he opened his own house and in 1947 he launched a perfume and gave it the name of his telephone number Elysees 64-83.
Later in 1951 he opened branches in the USA and designed many sportswear collections for the ready-to-wear market, becoming famous for his ability to make simple, tailored suits as well as grand evening gowns, in the same slender and elegant lines. He introduced the "bouffant" skirt, which remained high fashion for evening wear during the 50′s, in ensemble with the boned strapless top.
In addition to his couture work, Pierre Balmain's designs were greatly in demand in Hollywood. He received a nomination at the Tony Awards as better costume designer and won the Drama Desk Award for best costumes in Happy New Year, in 1980. Between 1951 and 1972, he designed costumes for 16 films, dressing stars as Vivien Leigh and Mae West, also for the off-screen events. He also designed for French films, including "God Created Woman" which introduced Brigitte Bardot to the great screen.
He died in Paris in 1982, leaving his house led by Erik Mortensen, a Danish designer , who had been Balmain's right hand man.
Browse other Balmain contents on Europeana Fashion Portal.