Archive for January, 2017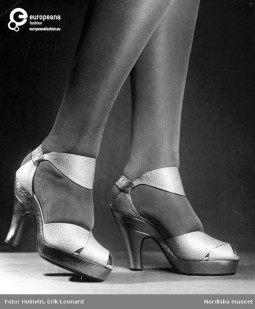 Andre Perugia is remembered as one of the first shoe designer and maker whose name reached celebrity. This is probably due to his revolutionary approach to shoe design, in between technical discipline and art-making, and also to the importance he gave to the idea of authorship, which led him to patent most of his 'inventions'.
After having learned the technical skills from his father, Perugia set up his own boutiques, the first in Nice, his hometown, and then in Paris. His abilities as a maker developed working in an aircraft factory during the First World War. The precision needed in that sector opened up his mind to the possibility to apply 'science' to shoemaking; this made him halfway between a maker, an engineer and, of course, a master createur. During his long career, spanning from the 1920s to the 1960s, Perugia collaborated with the designers who 'made' history of fashion, from Paul Poiret to Elsa Schiaparelli and Christian Dior; he was also a collector of art, and many of his designs are hommages to his favourite artists, from Braques to Picasso. His last collaboration was with Charles Jourdan – he acted as consultant between 1960 and 1966 – to whom Perugia left his personal archive.
Perugia was a pioneer in giving value to his design by patenting his models. He is one of the first designers reflecting on his value as maker and above all inventor, reclaiming the authenticity of his products and establishing  them as symbols of craft, quality, value and identity.
Apart from being a celebrity himself, Perugia also used other celebrities as inspirations to give form to his designs: in 1928, he turned Josephine Baker's turban into the famous 'Turban Sandal'. The link with celebrity culture is exeplified by the very title of his autobiography 'From Eve to Rita Heyworth', where he collects a number of psychological portraits, claiming that one way to understand women was to study their feet.