Archive for September, 2012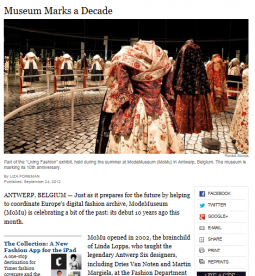 Last week, Europeana Fashion partner MoMu celebrated its 10th anniversary. To mark the occasion, The New York Time/International Herald Tribune published an article exploring the museum's history and its future.  The article quotes MoMu director Kaat Debo on her goal to make Belgian fashion accessible to all and this is where Europeana Fashion is mentioned!
The article says: "Next, MoMu will be part of Europeana Fashion, the digital fashion archive scheduled to debut in March 2013, which will offer online access to databases from museums and private fashion archives from 231 countries. In addition to including its own archives, the museum has taken on tasks like creating plans for the integration of new items and executing all the archive's online communications 'We want to make Belgian fashion accessible to all and so much more could be done to create a fashion archive using museum databases,' Ms. Debo said."2     
Read the full article here.
The article appeared on The New York Times/International Herald Tribune website on 24 September 2012 and was printed in The International Herald Tribune on 25 September 2012.
1   Please note that Europeana Fashion currently has partners in 12 countries.
2   Foreman, Liza. " Museum Marks a Decade." International Herald Tribune 24 Sep. 2012.De autorin https://ghostwritinghilfe.com mrsmith stellt sich vor jahrgang 1983, geboren in indien, seit fast 30 jahren jedoch fest im sdschwbischen verwurzelt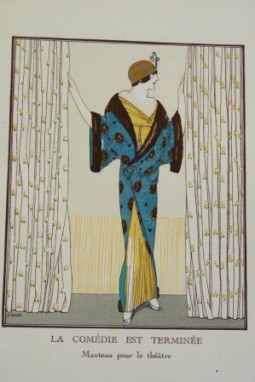 Last week, all the Europeana Fashion partners got together in Berlin to catch up on the progress of the project. It was great to see all the faces of our project partners from all over Europe, sharing experience, expertise (and some local Berlin cuisine of course). And now we are even happier to share some exciting updates with you!
The Royal Museums of Art and History in Brussels are working on a unique Fashion Thesaurus  that is going to make searching on the Europeana Fashion portal a breeze and that will even give you the opportunity to search by color. Our colleagues at the Victoria & Albert Museum in London are delving into Intellectual Property Rights, so we can share as many images as possible on Europeana Fashion!
Partner Stiftung Preußischer Kulturbesitz was so kind to organize this event and took very good care of us. They even treated us to a private tour by curator Adelheid Rasche of the Lipperheide Costume Library which hosts an incredible amount of fashion related objects, even dating back to the 16th century. And the best news of all is that a selection of objects from this massive library collection will be available on the Europeana Fashion portal!
View a selection of photos from the private tour and our event in Berlin below or see all of them on our Flickr page.
We have homework service a great piece from ken bauer on giving students an authentic voice