Archive for October, 2014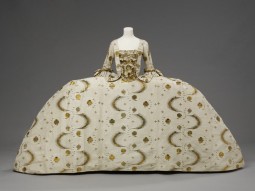 Europeana Fashion currently holds more than 400.000 fashion-and costume related items. This October, we highlighted some of these items with the hashtagh #eurfashionhighlights on our Tumblr.
This month we curated the Europeana Fashion Tumblr with items from  the Europeana Fashion portal which currently holds more than 400.000 fashion-and costume related items. With the hashtag #eurfashionhighlights we highlighted some of the most eye-gazing elements from our partners' collections, such as garments, accessories and illustrations. Highlights are Dušan Janković' illustration of a coat, a kimono in hand-painted silk satin by Kenzo or a pair of pumps in satin with feather appliqué by Roger Vivier for Dior.
From a robe à la française, dated 1765, to Craig Green's Autumn/Winter 2013/2014 collection, the curation on Tumblr offers an insight into Europeana Fashion's digital archive. Trying to encompass the history of European fashion design, this month's selection shows the results of the work done by the partners in the Europeana Fashion project over the past two and a half years.
See the highlights on Tumblr or explore of our collection in the Europeana Fashion portal and let us know what your highlights are with #eurfashionhighlights.Continuing https://paper-writer.org/ with the theme of measurable successes in education technology implementations that we've explored in a number of articles over the last few months, today we take a look at project red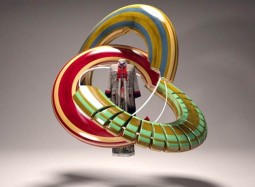 In collaboration with MoMu – Fashion Museum Province of Antwerp, Europeana Fashion
hosts its third annual conference in Antwerp on 24, 25 and 26 February 2015.
The conference DIGITAL FASHION FUTURES explores the future of digital fashion
initiatives, bringing together a multitude of online fashion platforms and innovative
perspectives from the cultural heritage industry.
FEBRUARY 24 | KEYNOTE LECTURES
On the first day, the conference examines ways in which digital content can be
worked into a valuable experience for its consumers as well as the evolving role
of digital content in business models for fashion. Participants are encouraged to
evaluate their own role in the future landscape of fashion.
FEBRUARY 25 | WORKSHOPS
On the second day, various workshops and debates allow participants to delve
deeper into the ideas presented on the first day. Use cases, challenges, best
practices and how-to's offer in-depth insights and practical detail for anyone who
wants to be part of the future of fashion online. Topics that will be covered are
intellectual property in a digital environment, digital skills required in tomorrow's
fashion world, how to contribute content to Europeana Fashion, and more.
FEBRUARY 24, 25 & 26 | SOCIAL ACTIVITIES
The conference is complemented by a range of off-programme social activities to
let participants connect with each other as well as explore the Belgian fashion and
heritage scene. These activities take place on 24, 25 and 26 February. Participants
can sign up for these events independently from the conference.
REGISTRATION
Registration for the conference and social activities is open from the end of
November 2014 onwards. To receive a notification when registration opens,
please sign up for the Europeana Fashion newsletter here. For more information: communication@europeanafashion.eu

#eurfashion15
@eurfashion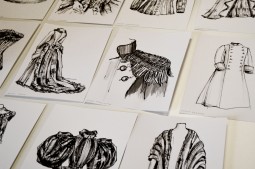 At the end of this month, representatives from all Europeana projects will gather in Madrid for Europeana's annual conference. Everyone was invited to deliver a short and inspiring talk about their project during the conference. 26 proposals for talks were submitted, but only 6 will be selected to present. Europeana Fashion wants to present its visual fashion thesaurus and its openly licensed drawings at the conference. Will you vote for Europeana Fashion and help us present our project in Madrid?
To take its 11-language fashion thesaurus to the next level, Europeana Fashion commissioned Hungarian fashion student David Ring to make an illustration of each object type in the thesaurus hierarchy. The goal: to create the first open digital visual thesaurus on fashion.
Europeana Fashion partners MoMu – Fashion Museum Province of Antwerp and Royal Museums of Art and History, Brussels teamed up with the newly founded Wikimedia Belgium to take the illustrations even further. They are working to digitise and release each of the approximately 250 beautiful ink-on-paper illustrations under a CC0 license on Wikimedia Commons, before the end of October 2014.
The illustrations, basic in black-and-white and rich in detail, will not only serve to enhance searching Europeana Fashion content through visual classification or to support Wikipedia articles, but they could play an instrumental role in Europeana's goal to promote and enable greater re-use of cultural heritage resources by creative industries.
Do you want to help us present this special project at the annual Europeana conference in Madrid on 30 and 31 October, then please vote before 8 October.  It will only take 2-3 minutes of your time. This is how:
1. Vote for talk no. 12 Size CC0 Fits All: Releasing Fashion Illustration in the Public Domain via https://www.surveymonkey.com/s/VQRFKFX
You have to be a Europeana Network Member to vote. If you are not yet one, you can register as one. Everyone affialited with digita cultural heritage can become one. This is how:
1. Go to http://pro.europeana.eu/network/apply and sign up.
Thank you!
Project red conducted a national study of education technology focused on student achievement and https://essay4today.com financial implications