Archive for February, 2016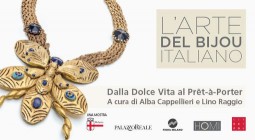 Held at Palazzo Reale in Milan, the exhibition "L'arte del bijou Italiano" shows 300 exclusive pieces by internationally renowned designers and stylists.
The exhibition, organized on the occasion of the Womenswear Fashion Week as a stylish journey through time, traces the history of jewellery from the fifties to the twenty-first century.
The creations conceived for big names such as Giorgio Armani, Hugo Correani, Gianfranco Ferre, Franco Moschino, Luciano Soprani, Valentino and Gianni Versace are showcased in a mix of limited editions and larger-scale industrial productions, to convey how Italian creativity skilfully combines formal beauty and manufacturing quality, technological innovation and highest quality artisan traditions. The exhibition path illustrates both a history of the evolution of style and technologies.
Curated by Alba Cappellieri, professor of Jewellery and Accessory Design at the Politecnico of Milan, this exhibition is testimony to the dialogue between art and design, constantly enriched with new languages. An exciting story of trends that endorse the role of costume jewellery as one of the accessories that most testifies the evolution of taste and fashion.
The exhibition will run until the 2nd of March 2016. For more information please visit Palazzo Reale Current Exhibitions.
Find more amazing images of jewels on Europeana Fashion Portal!