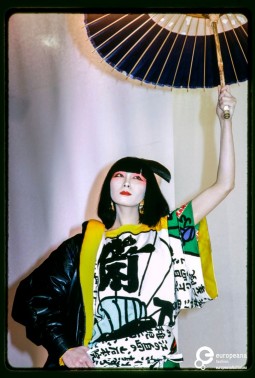 The latest update of Europeana Fashion Archive has seen the publication of the photo archive of the Dutch fashion photographer Paul van Riel, who has recently joined the portal as new content provider.
Amsterdam-based, Dutch freelance photographer with an international career in travel and corporate photography, Paul van Riel has dedicated part of his career documenting fashion shows around the globe. In order to present him and his work, we have asked him to share some memories about his past, his practice and his take on fashion. Here is what he told us.
As we learn from your biography, you have produced photo essays on a wide range of topics and you have travelled a lot. How do you consider your work for fashion, compared to that focused on other subjects?
Fashion photography entered my career only after having been in the business for about 7 or 8 years. In 1974 I tugged along with a friend from Amsterdam, who was a fashion-trade journalist on assignment in Paris, visiting the Salon du Prêt-à-Porter, which was entirely new to me. What started as a nice outing in Paris, quite thoroughly changed my life. I stumbled into a show by Kenzo at the Vieille Bourse and I was approached by various people then and there wanting to buy the rolls of film I had shot. Back home, I contacted a weekly news/lifestyle magazine to shoot a reportage on this Paris fashion scene and within a year, with lots of new contacts, I found myself shooting a growing number of défilés for more than one publication. Till then, my work had mainly been about travel and music photography, the occasional news assignment and some product photography; but between 1975 and 1990 my work schedule was (partly) organized around the fashion show calendars.
You are usually recognised as a photographer, but in your work – even in the catwalk pictures – there is a strong creative element, that makes you an 'image maker' – or 'artist' – in a wider sense. How would you describe yourself and your work, both in general and in relation to the fashion system?
The scene at the Salon and the Kenzo show opened my eyes to a whole new world. I was, and still am, much more interested in the ambiance of these affairs, the social and economic aspects, than in the actual 'fashion'. Many of the mostly Dutch and Belgian ladies and lifestyle magazines which published my catwalk images, soon asked me to shoot in studio. But to be honest…I preferred to shoot these productions on site; the background, the setting of these shoots were, for me, as important as the clothes themselves. There, I could combine my 'eye' for outdoor situations – often without any people in them – with a growing feel for clothing and beauté. It is no surprise that I love the creations of designer Issey Miyake; his work echoes my interest in architecture, sculpture, product design.
In 1989 I decided to bid farewell to the Paris fashion 'circus', after fifteen hectic years. It had become too crowded and 'commercial'. In October of that year, instead of shooting fashion on stage, I shot a twelve page full colour photo essay for the important Dutch opinion magazine Vrij Nederland, focusing on backstage and on the ambiance around the shows; there were models, buyers, aficionados, photographers, journalists, makeup artists and so on.
What made you decide to organise an archive of your work? What does the act of archiving mean, to you as an author?
I always held on to almost all the material I photographed over the years, fashion and otherwise, as well as hundreds if not thousands of my published pages of photography; I also kept the full correspondence with clients and organizations, and stacks of notebooks, accounts of travel expenses etc…not very much is being thrown away here. Europeana Fashion gave me the final push to start digitizing all of that, systematically. As it costs too much time to make a representative selection out of all the more than 1.000 shows I photographed in Paris and Milan, I decided to reproduce each entire collection.
You have enriched the Europeana fashion portal with an amazing selection of images. Could you give us an idea of the kind of material you decided to share, and why?
Looking back at the Prêt-à-Porter work – some of it is 42 years old – it tells a great story of changing tastes, the influence of various cultures on the global face of fashion (e.g. the Japanese entering the stage in the late 70's, early 80's). It really testifies the passage from simple catwalk shows with models holding a card with a number on it, to the outrageous multi-media presentations attended by thousands of people.
As a photographer, in which way would you make use of a resource as Europeana Fashion?
For me, as a photographer now just interested in fashion 'on the side', the Europeana Fashion database does offer a lot of information when doing research for future, design related stories.
Search the amazing Paul van Riel's collection on Europeana Fashion portal!
For more information, please visit Paul van Riel