Archive for November, 2016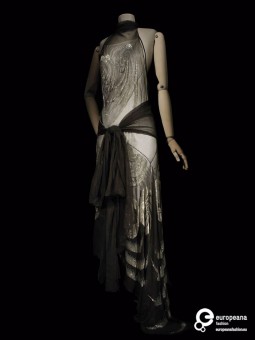 December is, by definition, a festive month. The many celebrations crowding our calendars during the last month of the year call, necessarily, for the right dress. For this month's theme, we decided to dive into the Europeana Fashion archive and pick the best objects representing December's party mood, concentrating around the idea of 'Gala', and its translation into clothes and accessories.

Galas are part of popular imagination as dreamlike events, where everything – from the little details to the actual design of the whole experience – concurs in the defition of the uniqueness of the moment. The architecture of these moments is as ephemeral as it is marvellous, and it it in their being rare and, most of the times, of restricted access that events such as galas, balls, and other social performances catch people's fantasies, provoke admiration and desire.

Galas have been portrayed in stories and fairytales as pivotal moments in the articulation of the narrative, and in these cases artefacts are most of the times the core devices to visualise the importance and relevance of the event: one for all, the power of Cinderella's shoe in making the story iconic in itself. This idea has been taken up into the transposition of these stories into movies, where costume designers have the task to make garments speak.
Apart from showcasing some material examples relating to special occasions, we will look at the people who are responsible of making the 'stuff' of which these dreams are made of: designers, but also embroidered and manufacturers responsible of the various objects populating these gilded scenarios. Some space will be dedicated to the 'master of ceremonies' and their role into contracting and disseminating this desire.
So, await for some fascinating insights on the material culture of partying and gala and, please, dress accordingly.