Archive for January, 2016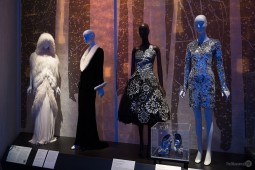 "Fairy Tale Fashion", on show at The Museum at FIT through the 16th April 2016, is a highly imaginative exhibition which displays high fashion in the traditional settings of the most famous fairy tales.
Dress plays an important role in fairy tales, it could be the magical instrument through which the hero overcomes the struggles, or a symbol of power, status and vanity. The dress is used to portray the qualities of the characters, and similar characters from various fairy tales wear similar clothes. The fairy godmother, the misterious old lady, the beggar, the prince, the sorcerer, all are characterized by their particular looks. "Little Red Riding Hood" and "Cinderella" are maybe the most known examples, but in many other tales, such as "The Little Mermaid", "The Beauty and the Beast" or "The Wizards of Oz" dress plays an important role.
The exhibition features more than 80 objects dating from the 18th century to the present, including the work of many 21st-century designers, whose creations distinguish themselves for their magical allure or oddity, like Thom Browne, Christian Louboutin, Dolce and Gabbana, Tom Ford, Giles, Mary Katrantzou, Marchesa, Alexander McQueen, Rick Owens, Prada, Rodarte, and Walter Van Beirendonck, among others. The exhibition is organized in thematic areas, that act as sets and are named "Forest", "Castle", "Sea" and "Parallel Worlds". Every section displays the clothes representing the different tales.
In the exhibition's introductory space are also displayed the artworks which have played a role in shaping the fairy tale aesthetic. These include illustrations by renowned early 20th-century artists such as Edmund Dulac, Arthur Rackham, and A.H. Watson, alongside recent, large-scale photographs from Kirsty Mitchell's award-winning Wonderland series, which are shown for the first time in the USA in this exhibition.
For more information about "Fairy Tales Fashion", visit The Museum at FIT. Browse also Europeana Fashion's new Pinterest board with a selection of the most bizarre and magical looks from our collection!