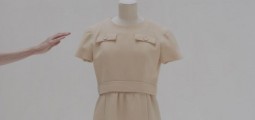 The exhibition, which will be on show until the 23rd October, questions the value of a fashion collection and the parameters which defines it.
In a fashion museum's collection the most valuable items are not always the most expensive or decorated. Many factors play a role in defining the value of a dress, may they be the name of its creator, the condition in which they were created, the function they covered, or the name of their wearer.
The exhibition "Anatomy of a Collection" focuses on this last aspect, drawing from Palais Galliera collection for a hundred garments and accessories, which cover four century of fashion and costume history. The pieces on show include Napoleon's waistcoat, a nurse's suit, a dress belonging to George Sand, Sarah Bernhardt's cape, Audrey Hepburn's outfit, Elsa Schiaparelli's overcoat, a dress worn by the Duchess of Windsor, Tilda Swinton's pyjama suit designed by Haider Ackermann.
The importance of these pieces is bound to that of the person they were intended for or to the one that wore them. Made by more luxurious or less precious materials, they reflect the cultural significance of their wearer and therefore acquire a different worth inside a museum's collection and a different light under the eyes of the one who beholds them.
The exhibition "Anatomy of a Collection" will be on show at Palais Galliera until the 23rd October. For more information, please visit Palais Galliera.