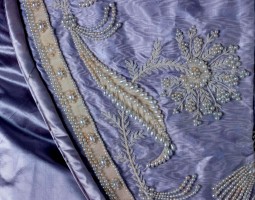 In Object Highlight a partner in Europeana Fashion introduces a unique fashion or costume object in its collection. This week a precious early 19th century court train from the collection of Centraal Museum Utrecht.
This lavender-coloured Manteau de Cour of moire silk is the only example in the Netherlands to date of a court train from the  period during which the Netherlands were under the French rule of the Bonaparte's.
The embroidered border with ivory-coloured chenille and pearl-coloured beads is remarkably broad, measuring 26 cm at its widest point. This may point to the garment's royal origins, as the Cérémonial de l'Empire Français from 1805 states that all ladies granted access to the court wear a garment of the same form as that of the Empress and that, if the ladies choose to have an embroidered border, this may not exceed one decimetre in width.
Discover this court train in the Centraal Museum collection or explore the imperial style of the Bonaparte's in a virtual visit to Château de Malmaison, a former residence of Josephine and Napoleon Bonaparte.
Written by Ninke Bloemberg
This year we licensed the application
resume-chief.com
and rolled it out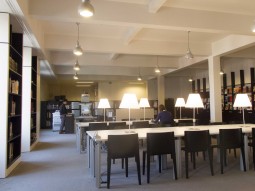 On Monday 23 September 2013, Europeana Fashion organizes its next fashion edit-a-thon with Wikipedia volunteers at MoMu -Fashion Museum Province of Antwerp around the theme of Belgian fashion. This will be Europeana Fashion's third fashion edit-a-thon after Nordiska Museet and Centraal Museum earlier this year.
The goal of all Europeana Fashion edit-a-thons is to improve and make fashion information on Wikipedia better and more visible, both in English and other language versions of Wikipedia. The fashion edit-a-thon at MoMu will focus on the theme Belgian fashion. Naturally, participants may write on other fashion topics as well.
Students, curators, researchers, fashion bloggers and other fashion enthusiasts are more than welcome. Experience with editing Wikipedia articles is not required, as experienced Wikipedians will be present to guide and assist the participants.
All you need to bring is your laptop and your enthusiasm. Lunch and snacks will be provided as well as a tour through the newly opened exhibition 50 Years Fashion Department, on the history of the Antwerp fashion academy.
So when?
Monday, September 23, 2013 from 9:30 AM to 5:00 PM
And where?
MoMu Fashion Museum Province of Antwerp
Nationalestraat 28
2000 Antwerp
You can find all the details and sign up here
We hope to see you there! If you have any questions, feel free to contact Gabrielle de Pooter at MoMu via gabrielle.depooter@momu.be
We proved out the application's functionality through testing and trialing, after which we installed it
https://essayclick.net
in the 13 computer classrooms we have on campus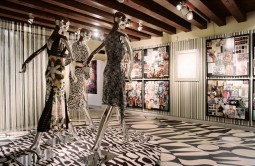 This August, our partner Missoni will curate our Europeana Fashion Tumblr, drawing images from its Archivio Missoni. As a living brand with a unique role in fashion history, Missoni inhabits both the cultural heritage sphere and the contemporary fashion industry.
"The Missoni Archive is not only an instrument for documenting images of fashion shows and advertisements, not only a warehouse for items created by the fashion house along the years, but it is mostly an instrument to realise artistic projects for communication events that – thanks to Europeana Fashion too – can be shared with modern instruments and platforms." - Luca Missoni
Missoni was founded as a knitwear business by Tai and Rosita Missoni after they married in 1953. Missoni quickly grew into one of the most famous Italian fashion brands, receiving raging reviews from the likes of Diana Vreeland and Maria Pezzi. Since then, the Missoni family has developed the house into a true lifestyle brand, extending the Missoni aesthetic beyond clothing and into interior design and hotels.
The Missoni aesthetic is unmistakble, it combines a mix of zigzag motifs, stripes, waves and slub yarns in a patchwork of geometric and floral jacquard. Over the decades, the Missoni family has been continuously developing and reinventing this aesthetic through technology and craftmanship.
Missoni's contribition to Europeana Fashion, as a living brand, combines cultural heritage with contemporary fashion. It highlights the dynamic relationship between culture and the fashion business and illustrates the importance of fashion heritage to a brand. Missoni's fashion heritage is kept in the Archivio Missoni and will be revealed on the Europeana Fashion Tumblr this month.
Visit Missoni on Facebook, Google+, Twitter, YouTube, Instagram and on its own Tumblr featuring the Missoni lifestyle.
Gary conducted a series of training sessions for instructors, and we're now up and https://pro-academic-writers.com running, and quite satisfied with the application's utility and performance so far