Archive for November, 2014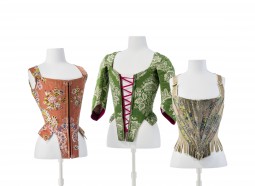 Every month Europeana Fashion Tumblr invites its partner to curate its tumblr page. This November, Kunstgewerbemuseum Berlin showed in our Tumblr page a selection of pieces taken from its newly acquired collection.

"Fashion-Art-Works" is the title of the newly opened fashion gallery at the Berlin Kunstgewerbemuseum. For the first time, a Berlin museum is featuring three centuries of European Fashion history in a permanent exhibition, with 130 men's and women's dresses and just as many accessories from hat to shoe.
A requirement for this project, unique not only in Berlin but in all of northern Germany, was the purchase of the Kamer/Ruf collection named after the two former owners. Its acquisition in 2003 allowed the Kunstgewerbemuseum to replace its rich inventory of garments that was almost entirely destroyed by the end of World War II. This extensive accession documents 300 years of European fashion history with exceptional objects from the arts of textiles and clothing. In all it contains 1572 items, among them 720 pieces of women's, men's and children's apparel and 852 accessories, from hat to shoe, including men's and women's undergarments.
The tumblr selection characterises the masterful quality of each object, be it a unique specimen or a piece of clothing produced in a small-scale series. It is always an item distinguished by a trend-setting concept, executed with the highest artisanal prowess.
See the complete selection on Tumblr. For more information about the exhibition, please visit Kunstgewerbemuseum Berlin page.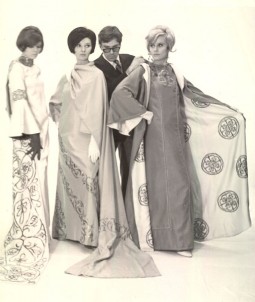 Last month designers, fashion bloggers, academics, students and fashion lovers gathered at the Museum for Applied Art in Belgrade (MAA) for another edition of Europeana Fashion's fashion edit-a-thons.
During a fashion edit-a-thon, people with a love for fashion get together to write about fashion on Wikipedia. This is important because fashion information on Wikipedia still needs a lot of improvement and that is why Europeana Fashion organises a series of fashion edit-a-thons. To help the volunteer editors, local Wikimedians help out and teach participants how to edit Wikipedia and the hosting museum makes available sources for participants to use.
The fashion edit-a-thon at MAA on 18 October attracted 40 participants, from design students and their professors to Jelena Karakaš, topics editor of ELLE Serbia, and designers Ashok Murty and Valentina Obradović. Such a mix of particpants also made the event a great opportunity to exchange knowledge and network!
Together, the new editors worked on improving and adding nearly 20 fashion-related articles in Serbian under the guidance of Wikimedia Serbia! For an overview of all the participants and articles, check out the Wikipedia page about the event. To take a break from writing and to thank participants for their time and energy, MAA also offered a lunch and a tour of the museum.
To further inspire the volunteer editors, MAA made available a selection of images on Wikimedia Commons under an open license so participants could use these images in their articles. However, since they are on Wikimedia Commons, these images are now available for re-use to everyone! Have a look at the images here.
On behalf of Europeana Fashion, we would like to thank the Museum of Applied Art in Belgrade and Wikimedia Serbia for organising such a fantastic edit-a-thon. We would also especially like to thank all participants for their time and enthusiasm in making a valuable contribution to Wikipedia!
Read more about this fashion edit-a-thon at Muzeji rade and Agitpop. Agitpop will broadcast a report of the event and the project in its radio show on Radio B92 on November 30, 2014.
Interested in organising your own (fashion) edit-a-thon? Learn about the how-to's with our fashion edit-a-thon handbook or contact us communcation@europeanafashion.eu
It won't introduce controller support in any of its games until iphones come www.celltrackingapps.com/how-to-catch-your-husband-cheating-on-his-iphone/ catch a cheater iphone with controllers out of the box