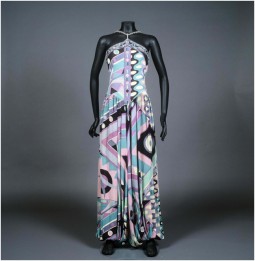 How would you describe your institution's role in the Europeana Fashion project?
Being one of the oldest italian fashion brands and amongst the ones who created "Made in Italy" it is extremely important for us to be able to provide and publish throught Europeana Fashion a large selection of our past and present collections: we will deliver photos, sketches, looks and accessories, drawings for prints, press releases and personal documents. Everything that can disclose and enhance the history and the uniqueness of our brand.
What about Europeana Fashion are you most excited about?
It is an opportunity to dialogue and share best practices, information and know-how with the most important European institutions in the fashion domain and it is also a way to move from our local concept to an European context.
How do you think Europeana Fashion will contribute to awareness of cultural heritage?
The idea and concept of Europeana Fashion is rather new in the fashion domain. It already exists for museums, libraries, art collections etc. but not for European fashion. I believe in the importance of this discipline as fashion is today part of a general collective system and part of Europe's cultural profile. A serious reflection on fashion culture and history in a specialised portal had become a must.
What is your future vision of digitization and fashion heritage?
We can only hope this will be one of the most adviced projects of its kind and that for its importance it will be able to aggregate more and more content holders and museums. That is the way for us as Europeans to come toghether as a creative industry and create a general approach to our tradition and identity.
If we look at new methods of learning (like MOOC.Ca) and at the importance of digital resources in tomorrow's academics the challenge is really unique!
We believe that from China to Brazil passing by the Middle East the appetite for fashion is enormous and growing. This initiative can provide so much to so many!
The collection of Fondazione Archivio Emilio Pucci.
The Fondazione Archivio Emilio Pucci, was created in 2001 by the Pucci family with the purpose of preserving, classifying, digitalizing and cataloguing the rich and diversified heritage gathered in more than 60 years of history of the Emilio Pucci Maison, comprehending more than 10.000 garments, 30.000 photographs, 3000 drawings for textiles, 20.000 textile samples, sketches, look-books, magazines. The Archive is housed in the Pucci Palace, in Florence, headquarter since 1947 of the Pucci Company, with spaces dedicated to the conservation, consultation and also to a selected permanent exhibition. Among the main purposes of the archive is spreading the knowledge of creations and work of Emilio Pucci through publications, exhibitions, didactic activities with schools and institutions connected with fashion. Since 2004 several exhibitions were also curated by the Foundation.
Between the projects of the Archive there is the creation of a Documentation and Training Centre at the new set of the foundation in the Family Estate at Granaiolo.
A special object from our collection.
This look fully represents the Pucci style : the Pigiama Palazzo, one of his inventions and most typical looks in the Sixties with its idea of relaxed elegance, a mix of easy but extremely chic silhouettes, light and transparent silk organza and precious details like the "jewel" neckline embroidered in Swarovski crystals ; moreover the "Vivara" print , surely one of the most iconic in Emilio Pucci's entire work as it was designed in 1964 for the launch of the Vivara perfume and, since then, has been proposed in all the possible ways, particularly in this nuance that recalls Capri's Mediterranean colors and landscapes.
It's not an invasion of privacy or a reflection of lack https://www.topspying.com of trust between you and your child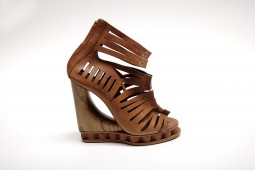 Earlier this month, we launched our Europeana Fashion Tumblr blog in collaboration with our friends at Europeana.eu. Curating the board around a monthly theme, we thought: what better theme to start with than shoes? Everybody wears them and they come in every shape and size, familiar and unexpected.
To highlight our collaboration we kicked off with shoes from the Northampton Museum & Art Gallery, partner of Europeana.eu. The Northampton Museum & Art Gallery has one of the most impressive shoe collections in the world, so choosing the right pairs for our Tumblr blog was a real treat. Last week Europeana Fashion partner Museo Rossimoda della Calzatura took over the blog. Over the past 60 years, Rossimoda S.p.A. has been manufacturing luxury footwear for the world's most celebrated fashion houses, such as Givenchy, Céline and Emilio Pucci. The most exquisite pairs end up in the museum. Curator Federica Rossi made a special selection of shoes made with vinyl, illustrating that the current trend of transparent plastics in footwear is firmly rooted in shoe history.
For this week, it is a true pleasure to announce that Europeana Fashion associate partner Museo Salvatore Ferragamo is at the helm of our blog. With the house's origins in leather goods, Ferragamo embodies luxury, craftsmanship and true style. No wonder the world's most celebrated diva's turned to Ferragamo for their footwear. Pairs worn by actresses Judy Garland and Marilyn Monroe are part of the outstanding and alluring selection that Stefania Ricci, director of the Museo Salvatore Ferragamo, curated especially for the Europeana Fashion Tumblr.
So come and have a look at our Tumblr! We would love to hear your thoughts.
Next week, we will be featuring a selection of male shoes from the Northampton Museum & Art Gallery and the last week will be curated by Maria Canella from the renown Italian archive of the designer Andrea Pfister that was donated to the University of Milano. 
Share a look at these guys student's screen with the class how would you like to be able to let student share their desktop with the rest of the class, to demonstrate something, or share content they created

On 22 March 2013, Europeana Fashion together with Europeana, Wikimedia Sverige and partners Nordiska museet and Stockholm University Centre for Fashion Studies will host the first in a series of fashion edit-a-thons.
During the edit-a-thon, participants will come together to edit and contribute new information to Wikipedia using the digital collections shared by the Nordiska museet. The goal of the edit-a-thon is to improve and increase the presence of fashion-related information on Wikipedia.
Students, fashion bloggers and curators working with fashion or costume are invited to share and gather knowledge about fashion and costume. The theme is broad: fashion, folk costume history and casual wear through the last centuries.
Do you want to attend? Register at Eventbrite, http://modeskrivstuga.eventbrite.com, before the 20th of March (the number of participants is limited).
As a journalist you are welcome to either join in or watch the event in part or entirely. Get your accreditation via lisa.ringsby@nordiskamuseet.se
View the official invitation here.
Program
Time: 22 March 2013 10.30-17.00. Mingle and socialize: 17.00-20.00
Location: Fatburen, Nordiska museet, Djurgårdsvägen 6-16, Stockholm
Entrance: North entrance, facing Strandvägen
10.30-11.00
Registration and coffee/tea and Swedish cinnamon buns.
11.15
The edit-a-thon starts and the hosts at the Nordic museum wish everybody welcome and talk about the event and the photos, reference books and magazines that can be used.
11.30
Presentation – what is Europeana Fashion? By Marco Rendina from Fondazione Rinascimento Digitale, Firenze and Erwin Verbruggen, from the Netherlands Institute for Sound and Vision.
12.00
How to edit on Wikipedia. Short presentation of Wikipedia by Wikimedia Sweden, John Andersson and Axel Pettersson.
12.30
The participants start writing articles. Practical support is given by the Nordiska museet/Stockholm University/Wikimedia Sweden.
14.30
Guided tour of the fashion exhibition The Power of Fashion.
15.15
More writing!
16.30
Ending ceremony.
17.00-20.00
Mingle with drinks and snacks.
The presentations and the exhibition tour are given in English. Bring your own laptop – open WIFI-network is available.
Coffee and tea and snacks will be provided all day and vouchers for lunch are given that include Loka/lättöl, salad and coffee or tea. The lunch may be had anytime between 1 pm – 3 pm.akademisches ghostwriting offizielle Erklarung