Archive for February, 2017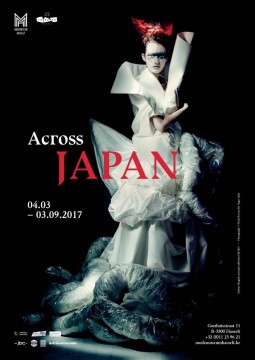 The encounter between East and West is usually that of two traditions whose boundaries are clearly set. The exhibition Across Japan, at Modemuseum Hasselt from March 3rd 2016, is a fascinating way to show how these boundaries, sharply defined only in appearance, are indeed blurred.
The exhibition explores the influences Japan in general, its materials, techniques and images, and also Japanese designers have had on the western – and global – fashion system. This due to a history of connections and relationships, commercial as much as aesthetic and technological, but also due to the fascination Japanese culture has had on western culture. Focusing on imagery, lines, inspirations but also actual interventions Japanese designers have made into the west, as the wave of designers who relocated in Paris in the 1970s and 1980s, the exhibition deploys as a chronological exploration that individuates five themes: Japonism, Wabi Sabi, Ma, Gi-jutsu and Kawaii. the first section gives the historical context, explaining the trade that linked Japan to the West in the second half of nineteenth century, through the Great Exhibitions till the influence kimonos had on the straight lines of designs by Vionnet and Balenciaga, among others; Wabi Sabi refers to the Japanese concept of beauty as 'imperfect, incomplete, impermanent', embraced by designers such as Martin Margiela; Ma deals with the relationship between the body and dress; Gi-Jutsu explores materials and techniques, and their crossovers in the work of both western and Japanese designers; finally Kawaii is presented in its influence on contemporary designs, which bear cute and erotic meanings altogether.
The exhibition features designs from Balenciaga, Thom Browne, Comme des Garçons, Delpozo, Ann Demeulemeester, Rudi Gernreich, Givenchy, Iris van Herpen, Yoshiki Hishinuma, Maison Margiela, Niels Peeraer, Alexander McQueen, Issey Miyake, Hanae Mori, Dries Van Noten, Paul Poiret, Raf Simons, Kenzo Takada, Undercover, Viktor & Rolf, Junya Watanabe, Vivienne Westwood, Bernhard Willhelm, Kansai Yamamoto, and Yohji Yamamoto.
Check out Modemuseum Hasselt Website to know more – and don't miss the opportunity to go Across Japan by visiting the exhibition